Snowtechstuff.com (stylized as SnowTechStuff) is our first technology-oriented blog that offers tech news, guides, insights and tech reviews with focus on Philippines and the rest of Asia-Pacific.
---
It is an independent technology and lifestyle-tech online publication venture of AstPro Media Group, and is primarily managed by AMG's CEO Bryan Snow. Most of the articles and videos there are written/produced by him.
Started on 2015 as a personal blog, SnowTechStuff evolved into what it is right now. It aims to inform people in what we call an 'unconventional way' about technology in the Philippines and in the world. With the latest news, trends, insights, tips, guides, as well as its hilarious yet informative reviews and recommendations – all you have to do is to sit back and relax while reading its articles and watching its videos.
SnowTechStuff intends to make informative and interesting content at the same time, as well as bringing you the latest news about technology. We also want users to understand more about technology through our posts and videos.
---
Site Statistics 
---
Age: 3 years (including from snowtechstuff.blogspot.com, snowtechstuff.com and now snowtechstuff.com.ph)
Published posts: 1000+ and growing
Monthly Pageviews: Around 50,000 – 80,000 and growing
Monthly Unique Visitors: Around 20,000 to 30,000, and growing
---
SnowTechStuff received around 20,000 – 30,000 monthly unique page views in the span of 2018. Our analytics report showed that our audiences are more interested in applications, internet, gadgets, computers and modern technology, especially with regards to computer hardware and PCs. These audience counts continue to grow as we progress, and more unique visitors are coming, returning and sharing content around.
News articles and headlines that we publish are mostly cited as source on some other popular/big websites in the Philippines and worldwide, including Asian and worldwide news outlets such as International Business Times (IBTimes), Inquirer, Tech Wire Asia, GizChina, MSPowerUser, The Star Malaysia and many more, as well as shared among Facebook groups, forums and Reddit subreddits, bringing more engagements and visitors to the website as a result.
On the other hand, we also publish product reviews and guides regularly such as PC Builds Buyers Guide and features such as #BetterOnPaper, #STSRecommends, #STSTips, #STSChecksOut and how-to's, giving our readers an insight of what should they do over something.
---
Reports below are as of the year 2018
As per Google Analytics, the top 10 site's visitors for the year 2017 are usually from Philippines (38.23%), followed by India (16.29%), United Kingdom (10.05%), United States (8.90%), Malaysia (4.83%), Pakistan (3.59%), Indonesia (2.96%), UAE, Singapore and Turkey (1%).

Google Analytics 'Demographics' identifies that 78.4% of our users are Male while the rest (21.6%) are Female. The photo below shows the age and gender group where the site is much popular.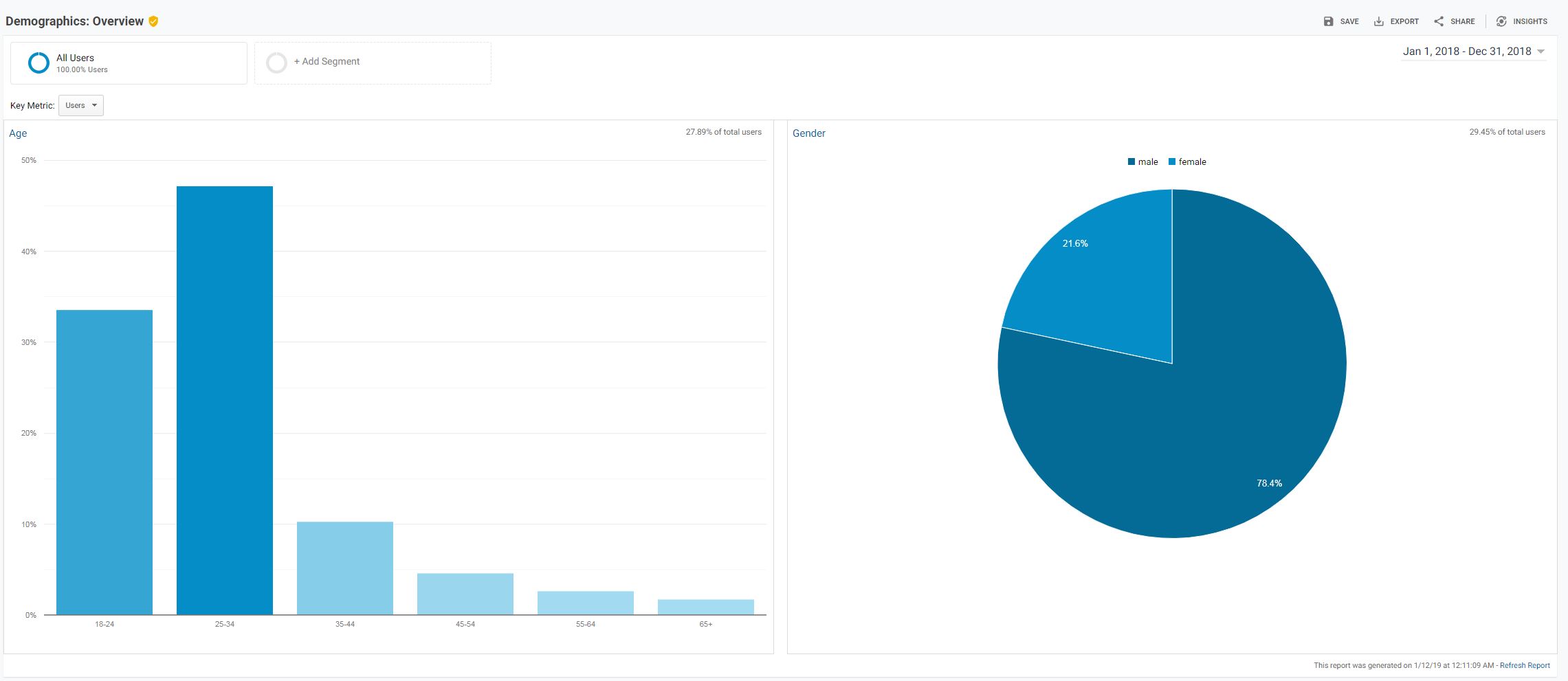 Alexa and SimilarWeb (verified with Google Analytics) statistics are also available. You can check it out through their platforms for real-time ranking and traffic updates.
---
Social Channels Stats
Facebook Fans: 3,700+ (https://www.facebook.com/snowtechstuff)
Twitter Followers: 180+ (https://www.twitter.com/snowtechstuff)
Instagram Followers: 120+ (https://instagram.com/snowtechstuffamg)
---
Want to advertise?
See our advertising details on this page or contact us through the address below:
---
Advertise Page | advertise@astpro.media
---
SnowTechStuff provides you with several options and forms of campaigns to start connecting your brand/company to our readers:
• Banner Ads (970×90 (header), 728×90 (page/article body), 300×250 and 300×600 (sidebars))
• Rich Media Ads
• Sponsored Posts
• Company and Brand Awareness
• Giveaways/Contest Hosting
• Customized Sponsorships
If you want to connect with our smart, savvy human followers, please email us on advertise@astpro.media, review our advertising notes here or contact us through this page.You can name your budget but make sure that it's reasonable. Reports are delivered on either weekly or monthly basis.
Ad serving is done through our own ad manager, but there's the option to do Google's DFP for controlled ad-serving.
---
A friendly reminder.
---
Please refrain from advertising campaigns that may reflect hate, racism, rage, and other similar topics that may compromise AstPro Media Group (AMG) and its subsidiaries. We do always have the right to accept or reject an offered advertisement, as per our reviews and partnerships policy.
---
Last revised January 11, 2019.